Not all pencils are created equal.

WOOD • GRAPHITE • SHAPE • ORIGIN • LACQUER & IMPRINT • FERRULE • SAFETY
The superior wood for pencil making.

Smooth, straight grain.

Grown in the United States.

Sharpens evenly, without splinters.

Soft wood, causing minimal sharpener wear.

Machines extremely well, resulting in a smooth finish.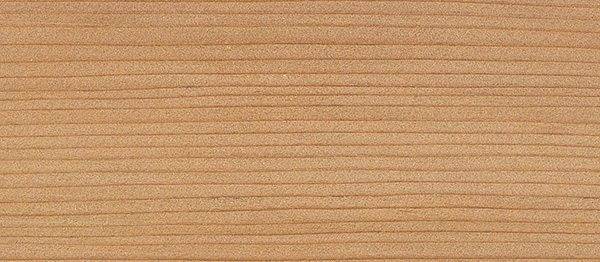 Includes Basswood, White Fir & Poplar.
The budget wood for making pencils.
Sharpens adequately, with some splinters.
Most of these are harder woods that cause more sharpener wear.
More difficult to machine, causing some slight imperfections.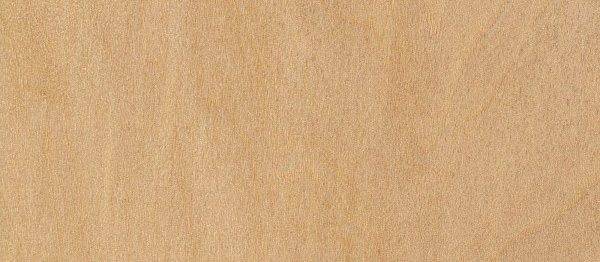 Avoid pencils made with tropical and pitted woods. These pencils can be identified by the small holes or pits in the wood. The wood for these pencils is often unsustainably harvested, and the pencils tend to sharpen unevenly.
Avoid pencils made with extruded plastic. These pencils can be identified by their smooth, plastic casing. These pencils are not biodegradable, and do not sharpen well.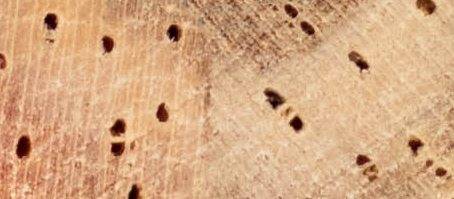 There is no lead in a "lead pencil." The core is instead made of a mixture of graphite and wax or oil. The hardest graphite available is 9H, while the softest is 9B. Most eraser-tipped pencils fall between 2H and 4B. There is no standardized graphite grading scale, so graphite hardness, smoothness and overall quality varies from manufacturer to manufacturer. In general, a #2 pencil is the same as an HB pencil. Learn more about the graphite grading scale.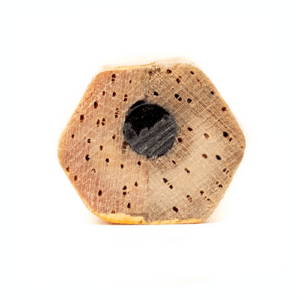 Off-centered graphite.
(typical pencil)
Hexagonal pencils are great for everyday use, while round and triangular pencils are good for learning. In general, premium pencils take on a hexagonal shape. Pencil diameter varies slightly from manufacturer to manufacturer, and there are mini-jumbo and jumbo pencil profiles for those who prefer larger pencils.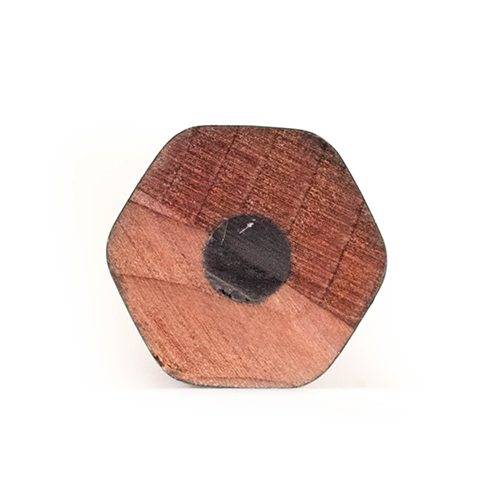 Hexagonal pencils have a comfortable shape that makes them ideal for general use.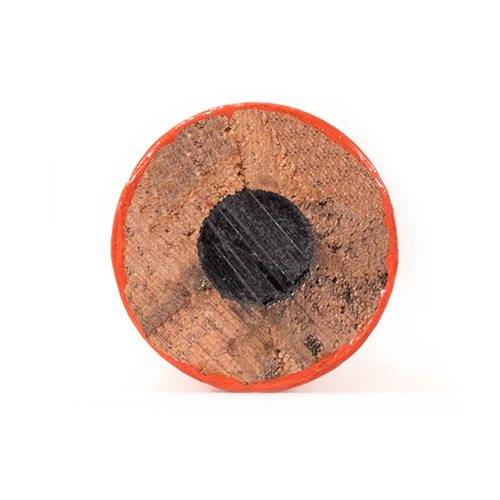 Round pencils are easy to grip, making them a good choice for learning (especially jumbo pencils).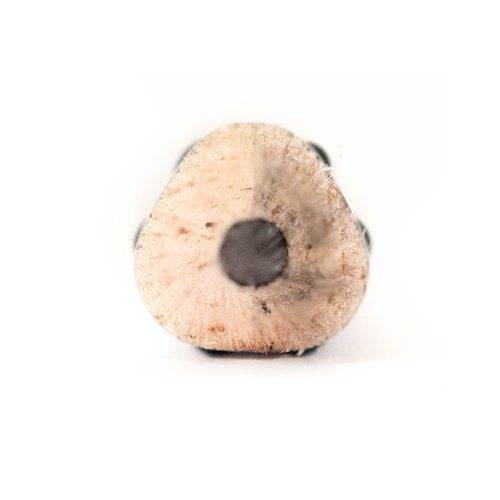 Triangular pencils have an ergonomic shape that provides some of the same benefits as hexagonal pencils, but they are fairly uncommon.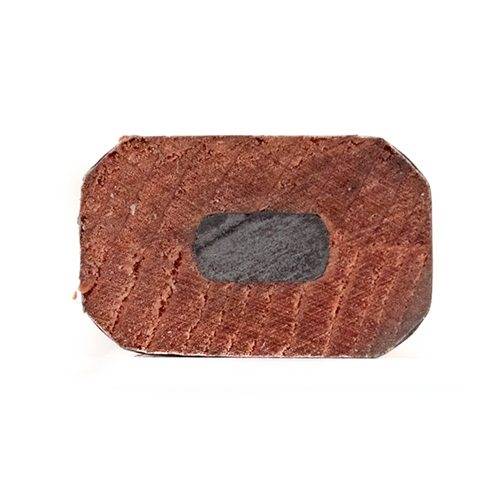 Often called carpenter pencils, flat pencils won't roll away, making them perfect for woodworking.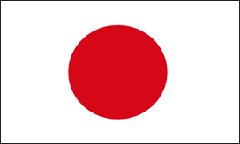 Japanese pencils are unlike any other in the world. Typically crafted by true artisans, they are known for their smooth graphite and the best finishing in the world. Pencils made in Japan include Blackwing, Mitsubishi and Tombow pencils.
Switzerland has long been known for ingenuity and technology (just look at their watches and clocks). Caran d'Ache applies that same ingenuity and attention to detail to their pencils.

Germany has a storied history in the pencil industry. Faber-Castell, Germany's leading pencil manufacturer, has been in business for over 200 years. Germany is also known for their sharpeners.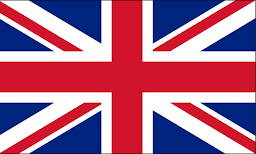 The Derwent Cumberland Pencil Company was founded in 1832. The UK is also home to the Cumberland Pencil Museum, where you can explore the history of pencils and pencil making.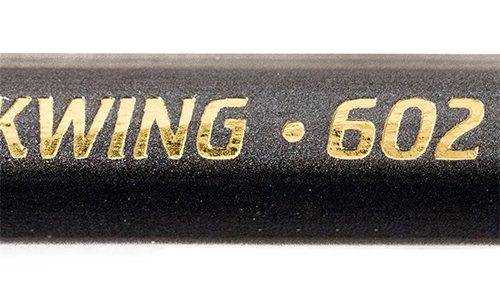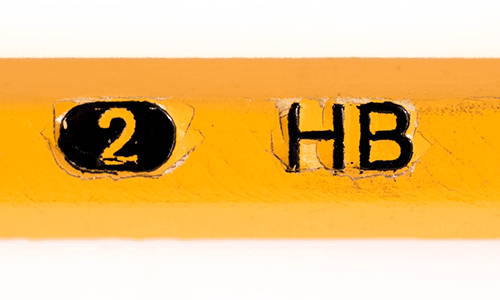 The number of lacquer coats on a pencil can vary from three coats in most entry-level pencils, to seven or more coats in premium pencils like the Blackwing 602. Even then, the quality of the lacquer varies greatly from manufacturer to manufacturer. Most pencils are imprinted using the foil stamping method. In order to get a crisp, clean imprint, quality pencils are imprinted slowly using finely tuned machinery. The use of low quality woods and rushing the imprint process can result in crushing and uneven imprints.
The ferrule is the small metal piece that attaches the eraser to the pencil. Most ferrules are round, but some ferrules take on other shapes. Most ferrules are crimped on, leaving small indentations in the ferrule. Some premium pencils have glued ferrules, giving the finished pencil a sturdier build and cleaner look.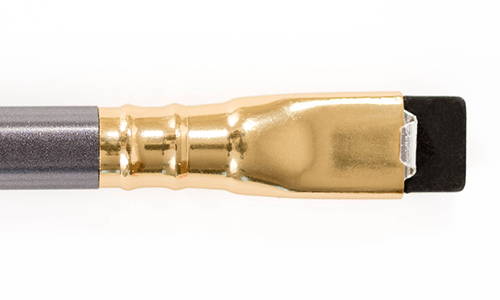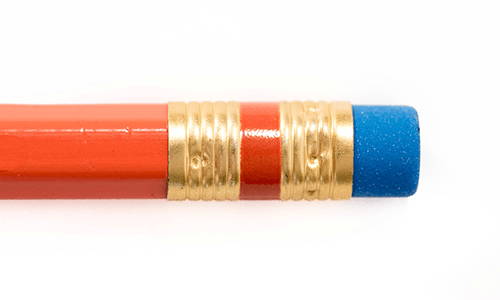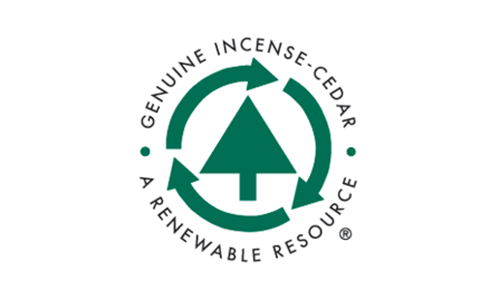 Only pencils that come with the Genuine Incense-cedar mark are made with certified incense-cedar that is sustainably grown in California and Oregon.
The Programme for the Endorsement of Forest Certification is the world's largest forest certification program. PEFC certification ensures the pencil comes from a responsibly managed forest.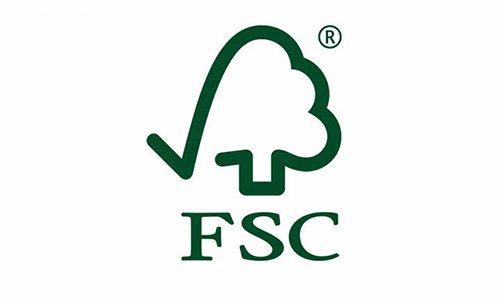 Pencils certified by the Forest Stewardship Council come from responsibly managed forests that provide environmental, social and economic benefits.